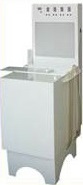 Installations for photochemical treatment x-ray film
To order
Settings for the display of X-ray (radiogramm, X-ray film) belong to installations for "manual" development of x-ray film and are used as part of photographic equipment for x-ray rooms of medical institutions and industrial flaw detection.
The peculiarity of this kind of plants are durability, ease of maintenance and low cost, for photographic and with a small area, and loading a special modification. In installations for the display of radiograms (X-ray, X-ray film) may be any fotohimreaktvy, at the discretion of the consumer.
Each unit has a housing in which the combined 5 containers: to manifest, rinsing after development in running water, fixing, rinsing after fixation (water team), final rinse in running water.
Install different sizes of containers and the extent of their equipment (presence developer temperature maintenance system, safelight, negatoscope, timers). X-ray processing units are connected to a centralized water supply and sewerage system.
system applied to the developer units maintain temperature, which not only automatically maintains the temperature, but also has extended functional and informative characteristics.
With this system,: – available continuously displays the actual developer temperature red emission with an accuracy indicator 0,1 ° C; – the user has discretion to set automatically supported independently developer temperature in the range of 18-31 ° C; 1 ° C increments; – permanently displayed state of the system – "It is heated", "It corresponds to a predetermined temperature", "Above a predetermined temperature"; – provides visual and audible alarm in the event of deviations of the developer temperature maintenance work on the parameters of the system.
Fitting for developing X-ray film made of white plastic, not allowing diffusion (introduction) it chemical reagents, which ensures the preservation of the appearance of the equipment during long-term operation.
practice shows, that under moderate loading photographic laboratories X-ray rooms, use of manual settings for processing X-ray film supplied with cabinets for drying it is more cost effective in comparison with the use of the developing machine, that for all their merits (including. treatment to 200 radiographs during),which are expensive, require constant skilled care, make special demands on the range of films and chemical reagents, water quality, have an increased consumption of chemicals.
To get a consultation